Laser hair removal for permanent hair reduction. 
How it works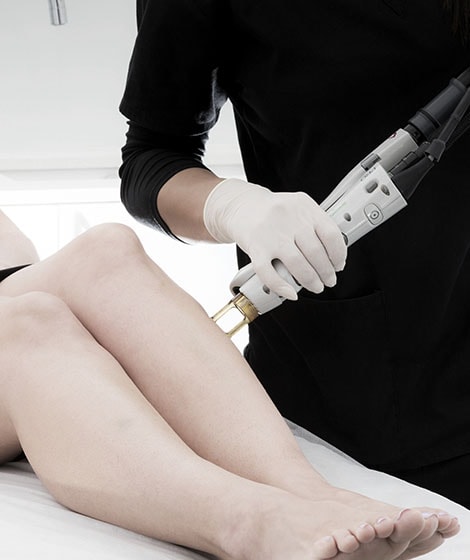 How laser hair removal works
The IPL-SHR machine gradually heats the dermis to a temperature that is able to effectively damage hair follicles and also prevent re-growth of the hair follicles, while very importantly avoiding injury to the surrounding tissue.
Our lasers work by delivering the follicle multiple, short, and low energy pulses accumulating enough energy to damage the hair follicle.
Our experienced Therapists will take your skin and hair type into account before creating a personalised treatment plan.
Our machine offers the safest, most effective laser hair removal solution available today and is backed by a number of clinical studies. We can treat all skin tones and a wide range of hair types all year round (365 days a year).
Benefits
Designed with sensitive skin in mind, our laser hair removal technology is safe enough to be used on any part of the body and target different skin types whilst ensuring maximum results. All of our lasers feature a unique dynamic cooling device that helps to calm, soothe and protect the skin.
Laser hair removal benefits include: 
- Permanent hair reduction
- Reduce ingrown hairs 
- Safe and effective technology 
- Convenient and cost-effective
- With every treatment, hair grows back thinner and lighter
For your initial course of laser hair removal treatment, we recommend approximately 10 treatments, spaced 4-6 weeks apart. Everyone is slightly different so book in a consultation with one of our Laser Therapists first.
Pricing 
Preparation
Shave the treatment area the night before your appointment.
Do not wax in the 4 weeks leading up to your appointment as pigment is required in the hair follicle for the laser to identify the hair and treatment to be effective. 
Avoid exposing the area to direct sunlight for 2 weeks prior to your treatment and always protect the skin with sunscreen. 
Aftercare
There may be some mild heat and redness in areas that have been treated. Soothe any redness and sensitivity with our in-house Laser Aid, this will continue to draw heat out of the skin and keep the area cool and hydrated. Laser Aid can be applied liberally for 3-5 days or until the skin has returned to its pre-treatment state.
For 24 hours post-treatment, avoid shaving, waxing or plucking hair, exfoliation, excessive sweating, swimming or saunas, very hot showers and tight restrictive clothing.
Avoid exposing the area to direct sunlight for 2 weeks after your treatment and always use the Skinstitut Age Defence 50+ to protect the skin and maintain results.
Glycolic Scrub 14% is recommended to use 5 days post-treatment to ensure the hair is encouraged to shed from the follicle, aid in the treatment of ingrown hairs and allowing an increase in benefits from better absorption of the laser.
Frequently Asked Questions